Thinking of buying a campervan? Maybe you've rented or borrowed one and loved the experience. The big question you are facing – is a campervan a good investment?
Campervans are not cheap. Whether you buy a factory built campervan, convert a base van, or buy a ready-made conversion, it is a serious purchase.
We look at the factors which convinced us to buy one. Hopefully, our experience will be useful for you to decide whether you should take the plunge and invest in your own campervan.
Should you buy a campervan?
Owning a campervan was always a dream of ours. Some people strive to own a holiday home or a boat, but for us, it was a campervan.
It represented the freedom to travel anywhere and claim all the benefits of camping with extra comforts.
It wasn't a decision we took lightly and we had to wait for the right time to buy.
The right time for us would have been anytime – subject to affordability. We weren't worried about the kids' ages or holiday opportunities. We were limited by where we could keep it.
Our home at the time had no off-street parking, just local street parking and even though we lived in a relatively decent area, cars on the street were occasionally vandalised and damaged.
We would much rather keep such a precious asset on our own property if we could, so we waited and rented vehicles to refine our search for the ultimate campervan.
Eventually, we moved house. Not just for the lack of drive but it was definitely on the checklist for the new home.
Not long after securing our lovely new home, with a drive, we took the plunge and got ourselves our lovely campervan.
Our family car at the time was a Volvo XC90 and was coming up to 10 years old. We agonised over the decision, could we trade in our daily ride for a campervan? Could it fulfil all the same functions? Would buying a campervan be a good investment?
The short answer is yes. Yes it can, and more.
Is a campervan a good day to day car?
Our campervan is a 2018 VW California Ocean and it's an absolute beauty.
Buying a factory built VW California is't the cheapest way of owning a campervan but after a lot of research it just made sense for our family and we have never regretted it.
Whether our campervan was a good investment was going to depend on our likely day-to-day use, so practicalities were definitely important.
Size: VW California Ocean Vs Volvo XC90
The VW California Ocean is built on a Caravelle chassis, which means the campervan's external measurements are similar to that of a standard estate car. In fact it's not as long or wide as the Volvo XC90. This makes day to day driving extremely practical.
| | | |
| --- | --- | --- |
| | VW California | Volvo XC90 |
| Length | 4904 | 4953 |
| Width (mirrors in) | 1904 | 2008 |
| Height | 1990 | 1776 |
Valuation: VW California depreciation
Depreciation was a big topic for us. Purchasing a VW California is an expensive purchase.
We were disappointed by the trade-in value of the Volvo XC90. It was a good car, no damage, low mileage but only carried £1,000 more part-exchange value than our 10-year-old VW Golf.
Needless to say, the cost difference between the two when first purchased was considerably more than £1,000!
We didn't want to have a fast depreciating vehicle again as it seemed such a waste of money.
Imagine our glee when we discovered that the VW California Ocean is the slowest depreciating mainstream vehicle on the market.
From a purely financial perspective, our VW California campervan is likely to retain its value better than other cars and is, therefore, a good investment.
Using a campervan for day trips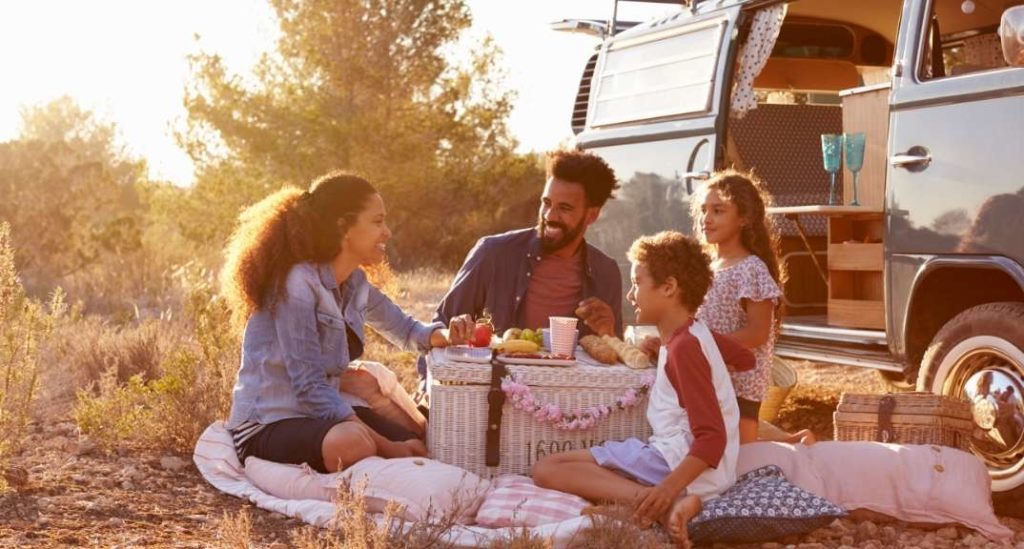 We didn't want to get a campervan and feel that we had to take every holiday in it. It would be our daily ride but have the added benefit of being able to tour and sleep in it when we fancied it.
We have used our campervan more as a day van than anything else. On the weekends and in the holidays, we'll load her up with food, bikes and games and take off for the day.
As the VW California is similar in size to a standard family car, we can park it anywhere we would any other vehicle. It will fit any standard parking bay.
Our café on wheels
With the cooking facilities onboard, we can whip up a delicious alfresco lunch, have a lovely cup of tea and a biscuit and enjoy the surroundings of where we've ended up. If one of the kids fancies a nap, we can pop the top and an instant bed is available.
More often than that though, we'll all sit round the inside table together, having spun the drivers and passengers seats around and enjoy having lunch and a game of cards.
If the weather is nice and there is space next to us, we can put out the sun canopy and bring out the outdoor table and chairs and enjoy sitting out in the sunshine.
Similarly if the weather is chilly, we are kept toasty warm by the on board diesel heater. Bliss.
Campervan seating positions
One thing to bear in mind particularly with the VW California Ocean is that the vehicle is made with four seatbelted positions.
It is possible to add a temporary, removable 5th seat but this does have limitations and affects the flexibility of what you can do in the van when parked up.
It does mean we are fine as a family of four, but should we need to offer someone a lft, we can't or we go in two cars.
The number of times this has been necessary has been very few so actually it hasn't been a huge problem for us.
Carrying bikes on your campervan
We've had varying success in the past being able to transport bikes on our car. It's always seemed fiddly and hard work..
The bike carriers recommended for the VW California and other T5/T6 VW vans are easy to use and very secure. It has meant we don't shy away from trips out with the bikes. It definitely used to fall in the too hard basket.
Admittedly this isn't a reason to buy a campervan, we could have purchased a better bike carrying rack for our hatchbacks but it's certainly a little perk of campervan ownership
Overnight stays with friends and family
We hadn't considered how useful the VW California would be for us when staying with family and friends.
As a family of four it can sometimes be a squeeze and an imposition to stay in someone else's home.
Having the campervan means we can stay overnight at any of our friends or families' homes with a drive.
It's a familiar and predictable environment for the kids and they just love it.
Going on holiday in your campervan
This is a rather obvious point, so it's left for last. Camping in the van does make for an affordable holiday.
During peak times, self catering accommodation in popular tourist destinations can be £1500-£2000 per week for a family of four.
Staying in the van on a good campsite has cost us a quarter of that cost for a week and you get a guaranteed comfy bed, and literally your home from home.
A good investment or not?
So is buying a campervan a good investment? It's a solid yes from us.